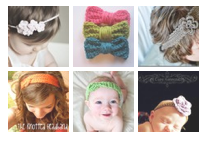 One of my Pinterest Boards
If you've stopped by the Daisy Cottage Designs facebook page or tried to view our Etsy shop lately, you've probably noticed that we're taking a hiatus. A three week break to take a break (redundant), gather inspiration, and create an inventory or ready-to-ship items that just wasn't happening when the orders were rolling in (though I'm thankful for the orders). I would like to explore the idea of doing some craft shows and this means I need some "stock," so to speak.
To come up with ideas, I've been perusing Etsy, Pinterest, and blog after blog. I've come up with some ideas that I think are fantastic! If you're interested, you can check out my Pinterest boards to get a sneak peak at what I'm liking (or just keep up with things I think are adorable or inspiring).
I shipped out the last of my orders earlier this week, so now I've got time to focus on coming up with new ideas, creating new items, and adding them to Etsy.



The plan is to be "back in business" on May 7th. I've typed up a whole list of goals and a new "business" model. I'm trying to come up with a cute packaging look. I'm trying to have lots of hats ready-made. I'm trying to come up with new ideas. I've got so much I want to accomplish in the next 2 and a half weeks. Makes me tired thinking about it.
I plan on keeping the blog and FB page updated.