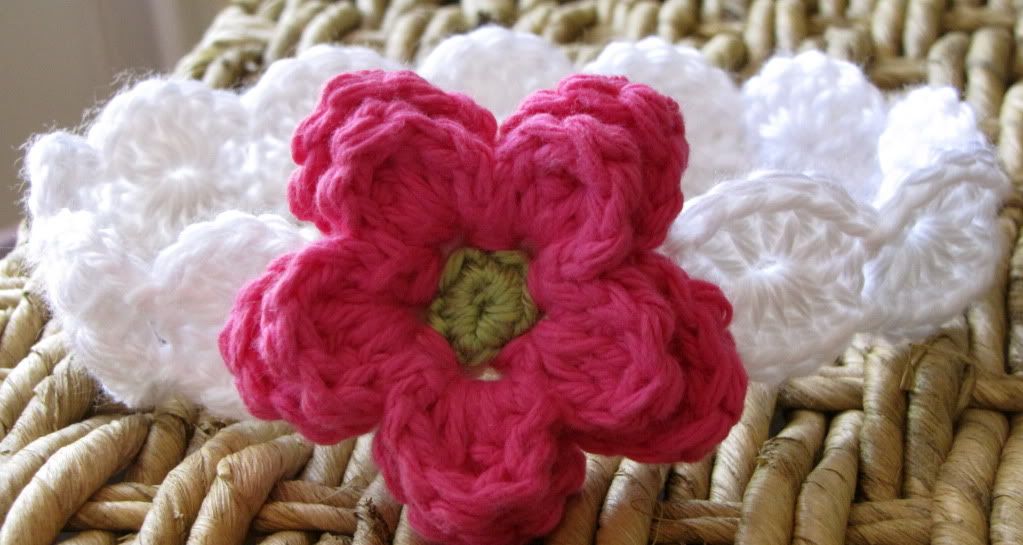 This tutorial is to make the flower you see attached to the headband. If you're interested in the headband pattern, please visit the
Busy Mom Designs
Etsy shop.
This pattern is very, very similar to the double-layer flower pattern. You'll do everything the same way except the petals. Rather than using all double crochets, you'll switch it up a little bit and increase the size of the stitch (working from HDC to TC) to make a differently shaped petal.
Small amounts of worsted weight yarn
Yarn needle for finishing off
BPSC- Back Post Single Crochet
You'll be crocheting in rounds. Don't turn work. Work through both loops for this pattern.
Let me just make a suggestion! Before you get scared reading about the back post double crochet, pull out a hook and some yarn and just give it a try. It really is easier than it reads.
Round 1: Work 10 SC into the second chain from hook. SlSt in the top of the first SC. (Change color after this round if you'd like a different color center). Gently pull tail to tighten.


Round 2: *ch 2, skip 1 SC, SC in next stitch* Complete four times. ch 2, skip 1 SC, SlSt in the first chain 2 space to join. (total of 5 chain 2 spaces)


Round 3: Ch 1, HDC,DC,2 TC, DC, HDC, SlSt in the same ch 2 space. *Ch 1, HDC,DC,2 TC, DC, HDC, SlSt* in each remaining chain 2 space. You will have 5 petals when you finish this round.


Round 4: Ch 1, *BPSC around the post of the SC on round 2. CH 3.* Complete 5 times. Sl stitch in the first BPSC to make the last ch 3 space.


Round 5: *SlSt, Ch 1, HDC,DC, 3 TC, DC, HDC, SlSt* in each ch 3 space. You should now have a second row of petals behind the first.

Feel free to use this pattern for items you're planning to sell. If you do, I just ask that you include a link back to this post in case others would like to try! :)

I'd love to see how you use this pattern so leave a comment letting me know how I can see your creations!