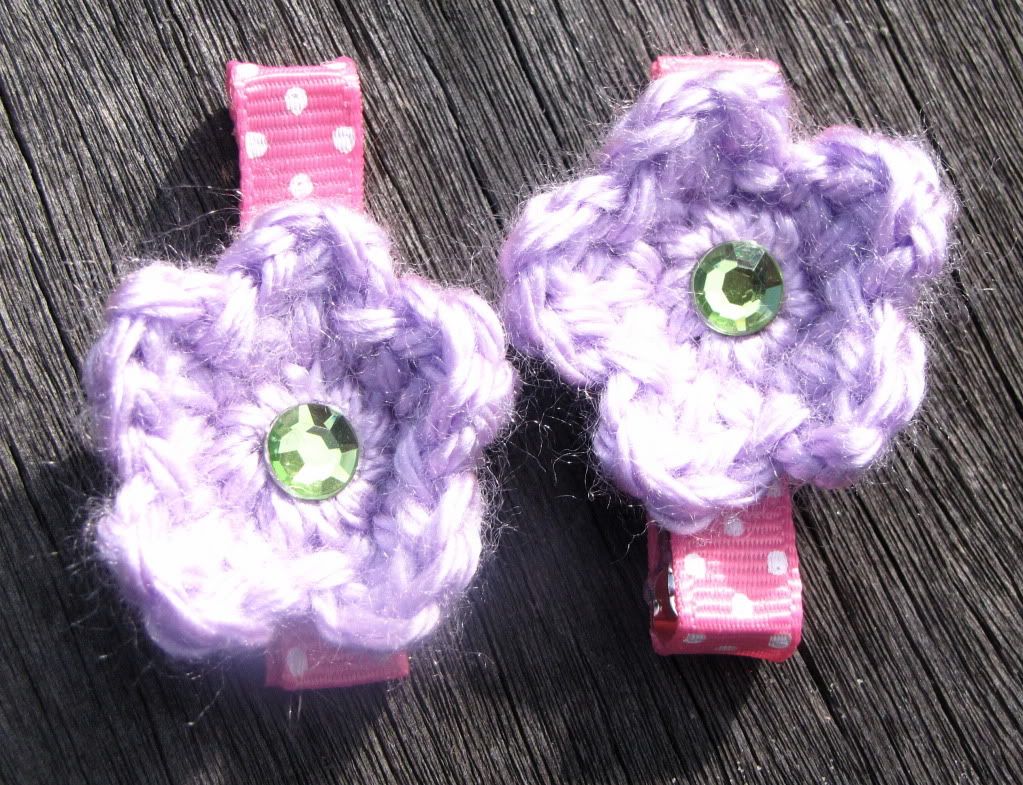 Materials Needed:
-Size F Crochet Hook (various sizes can be used to achieve different size flowers)
-Worsted weight yarn (cotton or acrylic will work fine)
-Small amounts of grosgrain ribbon
-2 alligator clips
-small buttons or jewels for center of flower
Stitches:
Chain (Ch)
Slip Stitch (sl st)
Double Crochet (DC)
Half Double Crochet (HDC)
First, you will need to whip up two of the tiny little flowers. They're super quick and fun (not to mention addicting).
Note: You will be working through both looks in this pattern.
Ch 2
Round 1: 10 sc into first ch. Pull tail to tighten.
Round 2: sl st in top of first SC. *ch 2. 1 DC, 1 HDC into next stitch, sl st into next stitch* Repeat between the *s four more times for a total of 5 petals. Fasten off and glue button or jewel to the center of flower.
Now that the crocheted portion is finished, it's time to line your alligator clips and attach the flower to them.
That's it! You're finished.
I made 15 today in no time! They're super easy to whip out and they're great for SO many things! They're perfect embellishments for just about everything.
Please feel free to make these flowers and use them in your items to sell!
If you do, kindly refer back to this link!
If you use it, please come back and leave me a link! I'd LOVE to see what you've come up with.